Finally a new Sandra post!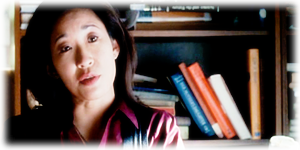 LITTLE CRIMINALS
(1995)
All the Canadians again! My lovelies Callum Keith Rennie, Molly Parker and Sandra Oh (sadly uncredited, although she has some actual lines ;) ). This a very dark movie. And I squeed again, because the casting director is Sid Kozak (x-files pilot, the diary of Evelyn Lau ;) ). Sorry for the horrid picture quality, couldn't find a better version…
( Social Worker )
KUNG FU: THE LEGEND CONTINUES
(1996)
This is such a nice show. I actually watched a few more episodes. Sandra is just in this one episode (4x02) though. Again, sorry for the quality, but it's pretty much impossible to find a better source ;).
( Mai Chi )
SIX FEET UNDER
(2001)
This is a show I always wanted to watch but never found the time to do so. Sad, because I'm sure it's awesome. I don't have much to say about Sandra's appearance, she has two short scenes and she's wearing a blond wig, so that makes it quite funny ;)
( Porn Starlet )
DEFENDOR
(2009)
Amazing movie! Love Sandra/Woody Harrelson together and I got a little more into Kat Dennings' work (she did some great movies, too…)
( Dr. Ellen Park )