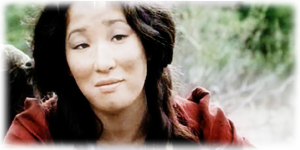 Since
Sandra Oh News
fooled us
today
;), I decided to upload a few more picspams I made about Sandra.
The first one are four scenes she had in the TV Series '
Popular
'. She appeared in episodes 1x02 and 1x03 (in 1999)
( Humanities Teacher )
The second one is a favorite of mine. Sandra appeared in an episode of '
Lonesome Dove: The Outlaw Years
' (episode 1x04 in 1995).
( Ming Li )