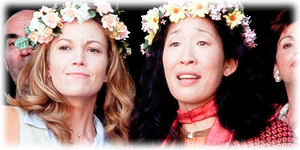 Watch and enjoy three bigger parts for Sandra!
UNDER THE TUSCAN SUN
(2003)
I thought I'm so gonna hate this movie when I first started to watch it and I was wrong… yes it's overly cheesy, but the story is nice and omg the landscapes…Italy is so beautiful. Of course Sandra is stealing the show every time she's on screen. But she makes a good couple with Kate Walsh. It's really a nice movie and I'd definitely watch it again.
( Patti )
CAKE
(2005)
Best thing about Cake? The cast… ;) The story is…boring and ordinary. But there is Taye Diggs, Sarah Chalke, David Sutcliffe and of course Sandra to keep me entertained…although I thought her part was a tiny little bit stupid…well maybe I just don't get the comedy in this movie ;).
( Lulu )
SORRY, HATERS
(2005)
This movie is so good. Robin Wright and Sandra are amazing together.
( Phyllis MacIntyre )