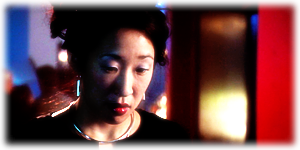 Adding another five amazing Sandra Oh movie appearances! Of course amazing because of Sandra but also amazing movies in general ;).
I really liked
GUINEVERE
(1999). It's about a young woman who has a relationship with an older man. Sarah Polley plays the lead role and she's so great! Sandra's appearance is pretty short but her first scene is something one needs to hear, she has a major freak out, very awesome!
( Cindy )

A very weird movie:
WAKING THE DEAD
(2000). The movie flips back and forth between the 70s (where the main character's girlfriend died) and the 80s (where he lives now). He is haunted by his past. Shout out to Molly Parker! Sandra's role is pretty small.
( Kim )

Another weird movie:
RICK
(2003).
( Michelle )

A pretty interesting idea was
3 NEEDLES
(2005). Three short movies about Aids as one big movie. One story in China, one in Canada and one in Africa. Sandra plays one of three nuns in Africa. I'm sorry for the landscape caps, but I couldn't skip them, they were too pretty.
( Mary the Nun )

I think my favourite of today's post is
THE NIGHT LISTENER
(2006), because omg…Robin Williams <3! This guy is a genius and together with Toni Collette and Sandra Oh, well there's no way this movie could be bad…the storyline is amazing. I'm not going to spoil anything, because it's a mystery thriller.
( Anna )